Low price fish feed production line for fish farming
Floating & Sinking Fish Feed Processing Line
Our fish feed pellet production line is the complete procedure of feed pellet production with capacity of 300-6000kg/h. This line is designed for making commercial pellets from corn, maize, grass, grains, protein, molasses and so on, and final pellets with different shapes, unique flavor, rich nutrients and fine texture, are widely used as aquatic and pet feed like goldfish, tropical fish, catfish, shrimps, dog, cat and etc. Super automation control, high production efficiency, our fish feed production line is the best choice for medium and big sized feed mills and breeding farms. Complete pellet production lines with different capacities are also available to meet customers' specific demands.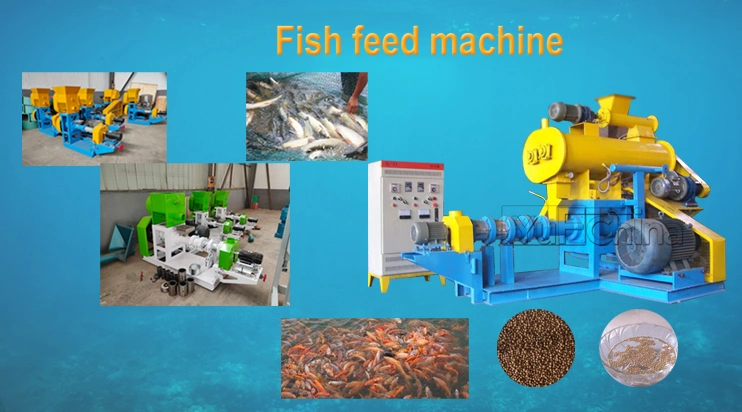 Features of Floating & Sinking Fish Feed Processing Line
1. Advanced technology, high capacity and low energy consumption.
2. The modular structure is convenient for assembly and disassembly, facilitating the shipment and installation.
3. PLC controlled, alarm device is available. The operation is simple and convenient.
4. Final pellet shapes and sizes can be various by changing the mold. For fish and shrimp feed pellet, the floating time in water can be adjusted by the extrusion degree adjustment.
5. Processing is effective at high temperature instantaneous process, greatly reducing the decomposition of nutrients in feed, at the same time improve the protein (through the degeneration of protein) and starch (through starch paste) digestibility, to improve the palatability of the product.
6. In order to ensure the quality and the capacity, there is the special pressure-increased device. Besides, the electric heating device improve the feed expansion rate.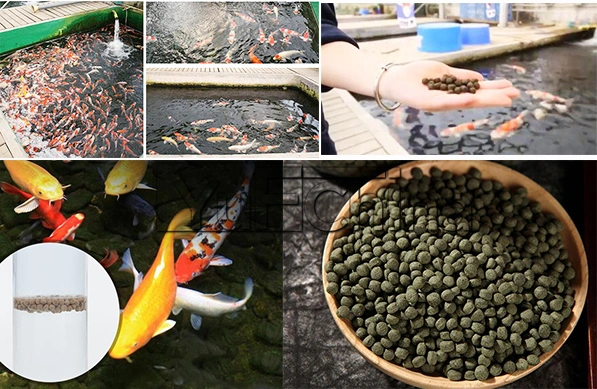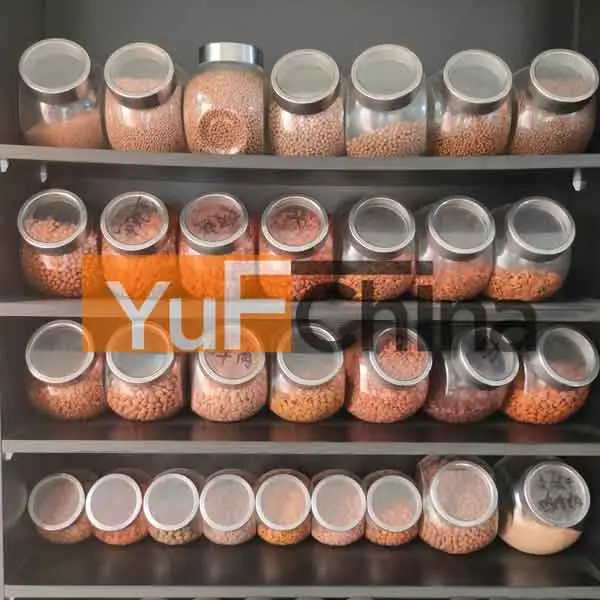 Details of Fish Feed Pellet Plant
1. A wide range of raw materials such as corn, wheat bran, paddy, soybean meal, paddy rice, sorghum, etc. By the high temperature and high pressure for the raw material, which can kill the salmonellosis and bacterial infections.
2. Besides floating fish feed and sinking fish feed, this production line can also produce high quality feed for pet like dog, cat, rabbit and etc.,
3. Special applicable for fish farm holders and pet feed manufacturers.
4. The diameter of the pellets can be from 0.9mm-15mm.
5. Capacity: 300-6000kg/h. We can also customize different fish feed pellet plant depending on your raw materials and specific requirements.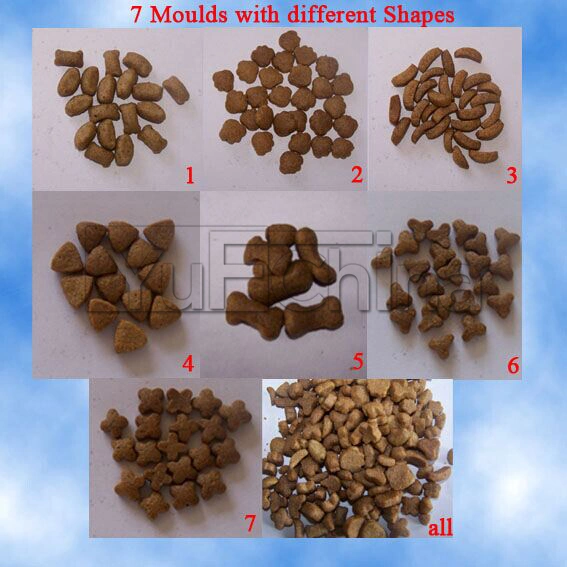 Main Procedures of Floating & Sinking fish feed production line
Material crushing→material mixing→extruding process→pellets drying→oil spraying process→pellets cooling→pellet packing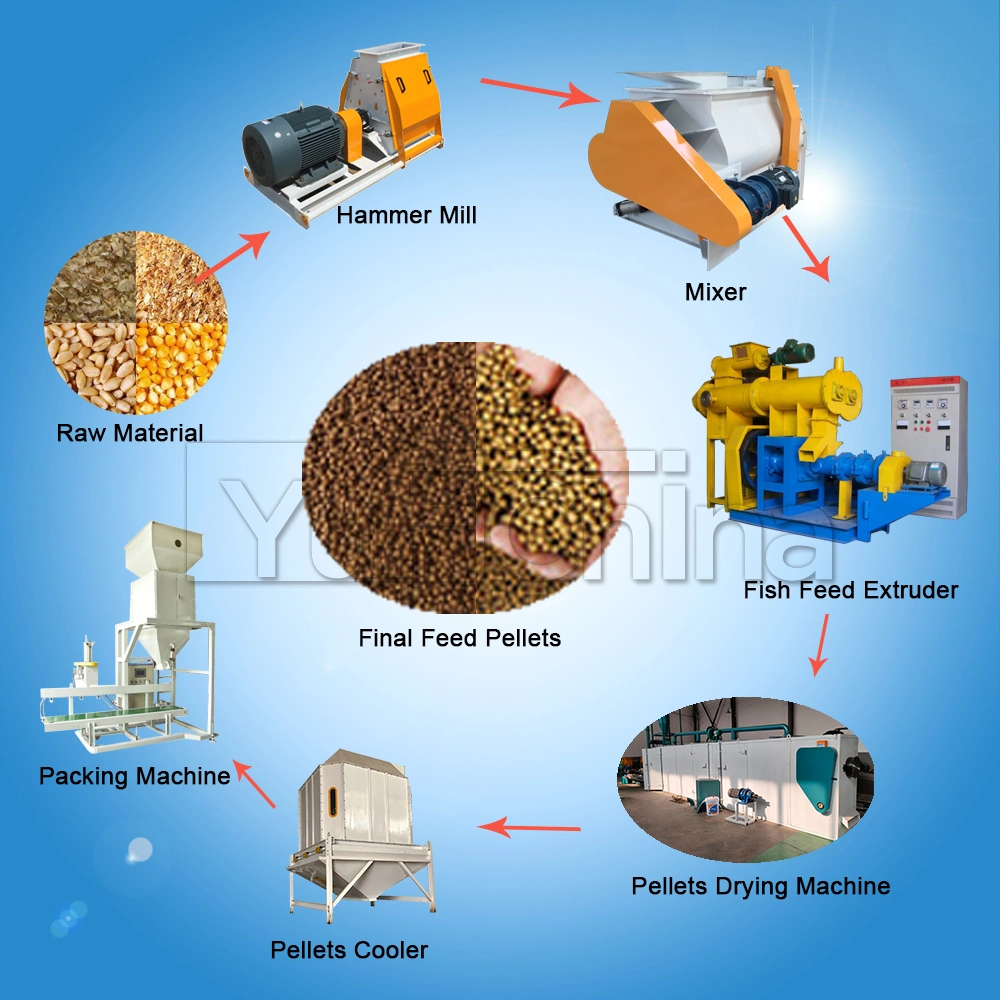 1.Crushing
Raw materials first are crushed by the fish feed crusher. The particle size directly effects the efficiency of pellet making. Once feeding into the crushing chamber, materials are smashed under the high-speed rotation of hammers. With the high pressure and rapid-moving of airflow, the smashed raw materials are further reduced into particle size or very small pieces for further processing. Therefore fish feed hammer mill is suitable for fish feed pellet grinding in the production line.
2.Mixing
Powdery feed materials need to be mixed thoroughly in the mixer to ensure a high-quality of nutritional feed. We provide feed mixer with a single-shaft and twin-ribbon. It reinforces convection, shearing, and mixing effects and is an essential parts of the whole line.
3. Extruding
After mixing, feed pellet extruder will compress feed powder into sized pellets. Dry type fish feed extruder is the significant equipment with reliable performance, easy operation and cheap price, which is economic for small and medium scale production. Therefore dry type feed pellet making machine are recommend for a smalle capacity in the feed pellet plant.Wet type feed extruder with the conditioner can also produce high quality pellets in large capacity, which suits for large fish feed factory.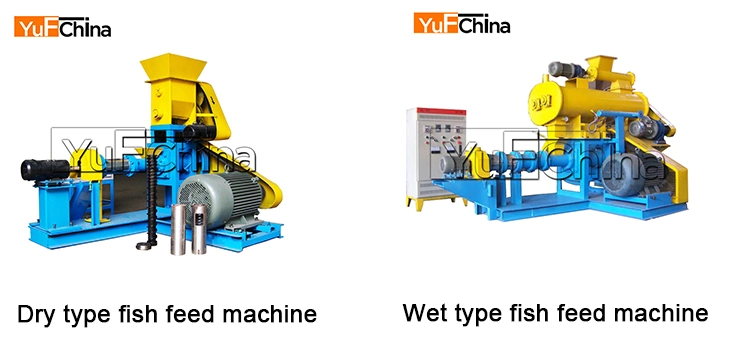 The final floating fish feed pellets are as follows: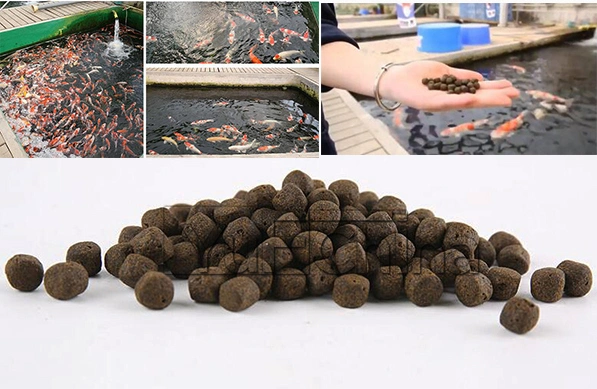 4. Drying
Fish feed pellets from extruder machine need to reduce the high moisture and temperature. So mesh belt dryer should be equipped in the production line. With simple structure, small area occupied, it is easy to install and maintain, and ideal for fish feed pellets drying.
5. Oil Spraying Process
For acquiring better smell and taste, the oil spraying machine can be used to spraying oil to the surface of fish feed pellets coming out of the dryer. It sprays atomized oil with high speed on the up and down surface of pellets, and the excessive oil can be recycled through filter.
6. Pellet Cooling
Hot pellets are soft and easily broken, which can result in a high percentage of fines. By cooling pellets can be harden. Counter flow cooler is cooling type that commonly used in pellet industry currently with the direction of the air and product of pellets in opposing directions.
7.Pellet packaging
The fish feed pellets are packaged in bags for further transporting and storage. Here you can opt pellet packing machine which is suitable for weighing and bagging pellets. Using packaging machine can increase productivity, reduce labor intensity and satisfy the needs of large-scale production and meet hygiene requirements.

How is your guidance of my fish feed pellet plant?
1. Help you to determine the scale of fish feed mill.
2. recommend the feed process and recommend fish feed machine.
3. control mode selection.
4. fish feed manufacturing plant structure selection.
5. planning the general drawing of fish feed mill plant site.

Welcome to know more about our fish feed production line.