Model Number: JR101-FK-Y
Heavy Duty Outdoor Telephone Description

The JR100 Series Heavy Duty Outdoor Telephone is made for environments that need a telephone which can withstand rough usage and treatment.The telephone is well suited for outdoor usage-due to the thick aluminium casing with easy opening door, the stainless steel materials, the steel cable into the phone from bottom, and the Weather Resistant keypad.The telephone can handle heavy duty usage in indoor and outdoor environments.
The heavy duty outdoor telephone is easy to use with a full keyboard with large buttons. Function keys are for :
"LR"( button for last number redial)
"R" (for flash recall)
"M" (for muting)
External ringer unit is recommended. Wall mounting plate in stainless steel is suitable for installations which do not give rear access to the phone.
FEATURES
1)Standard Analogue phone/SIP phone with broadcasting function 15W or 30 W exteral speaker and LED lamp
2)Vandal resistant handset and cord
3)Weather proof protection to IP67
4)Full keypad with memory, 0-9 buttons can be
5)programmed as speed dial button.
6)"LR" button for last number redial
7)"R" for flash recall
8)"M" for muting
9)Wall mounting, Simple installation
10)Inductive coupler fitted as standard for hard of hearing
11)Phone line powered(Analogue)
12)External power supply or PoE (SIP-VoIP)
13)RJ45 port for SIP phone
14)CE,FCC compliant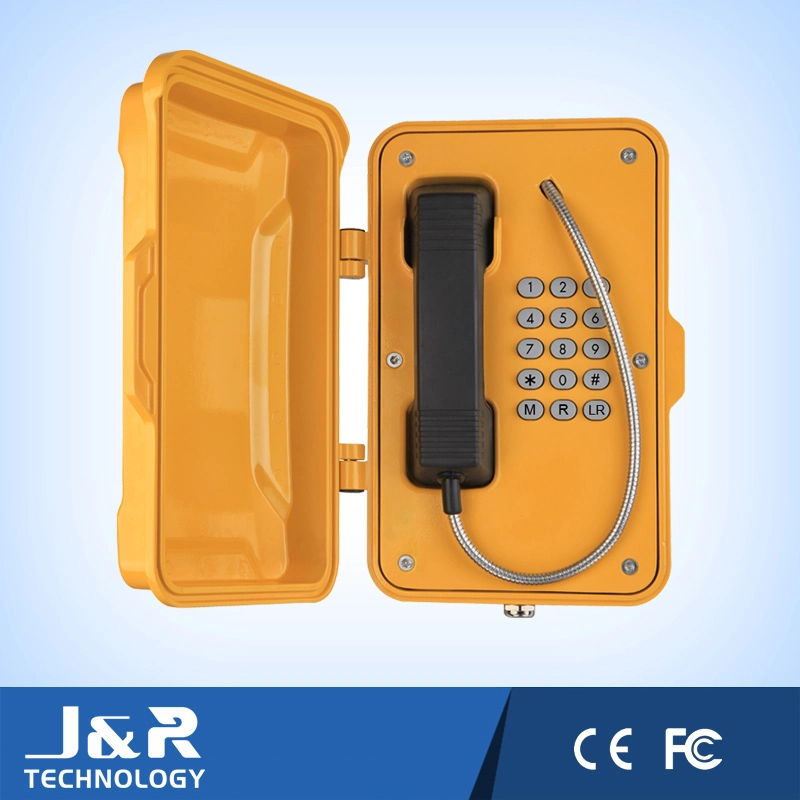 TECHNICAL SPECIFICATIONS
Casing Material
Die cast aluminium, epoxy powder coated.
Colors
Yellow, other colors to special order
Handset Material
Cycoloy with stainless steel spiral cord
Keypad
Weather Resistant Rubber Keypad
Operating
-30°C to +65°C
Storing
-40°C to +75°C
Weather Resistance
IP67
Hook switch

Electronic / magnetic with no visible
moving parts

Weight
Up to 7 kg depending on option
Temperature
Operating: -30°C to +65°C
Storing: -40°C to +75°C
Ringing Tone
Shrill warble tone 80 dBA @ 1 metre typical
M.T.B.F.
Calculated to have an M.T.B.F. in excess of 50,000 hours using
Dialing
MF (tone)
Lightning / Transients
Protection to ITU-T k.21 enhanced levels
PACKAGE
Unit size: 339*246*126(mm)
Carton size:200*300*440( mm )
Packaging materials: pearl cotton, carton
Net weight: 6.2KG
Gross weight: 7KG