Good working performance Fish Feed Pellet Machine Price for Fish Farming
Detailed introduction of the fish feed pellet machine price for fish farming
1. fish feed pellet machine, also known as fish feed extruder, is used to process various kinds of grains into high-grade aquatic feed pellets for fish, crab, catfish, shrimps, etc.
2. This fish feed pellet machine has gained popularity in fish farmers.
3. This machine is suitable for small and medium aquatic farm or feed pellets processing factory.
4. Compared with buying fish feed, making your own fish feed pellets by the fish feed pellet machine is really cost effective.
5. Aquaculture feed pellets have wonderful taste and high nutrition.
6. The size of pellet aquaculture feed made by this fish feed pellet machine can be adjusted according to your need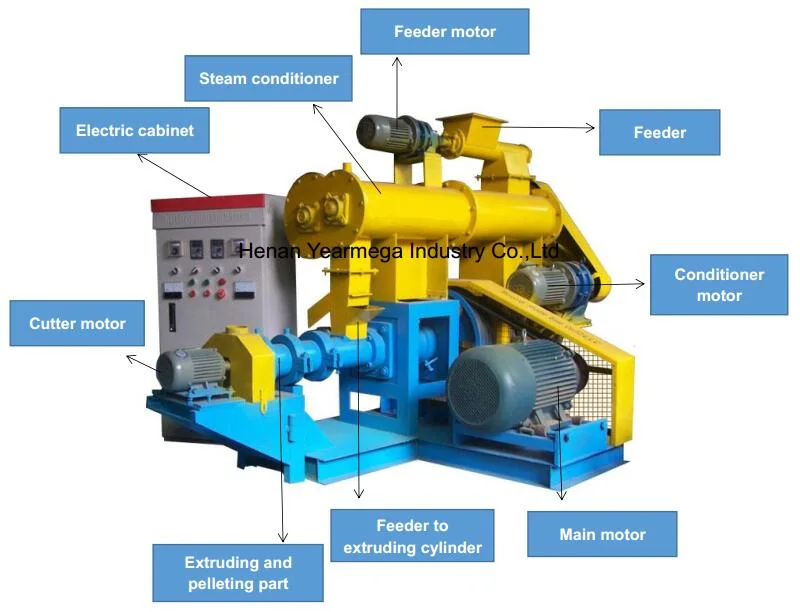 Features of the fish feed pellet machine
1. Novel design, high output and stable performance.
2. Main parts are made of special alloy material after heat treatment.
3. High wear resistant degree and long service time.
4. This fish feed pellet machine price is suitable for small fish feed plant and professional farmers.
5. Final processed aquatic feed pellets have unique taste and high nutritious.
6. Low energy cost, high capacity, easy to maintain.
7. Diameters and shapes of fish pellets can be adjusted by choosing different molds.
8. Salmonellas and bacterial infections can be killed by high temperature and high pressure process.
9. Feed pellets produced by this fish feed pellet machine of puffing type, thus making it more easily to digest for fishes.
10. Equip with steam conditioner, which could precook the flour material before extruding and pelletizing.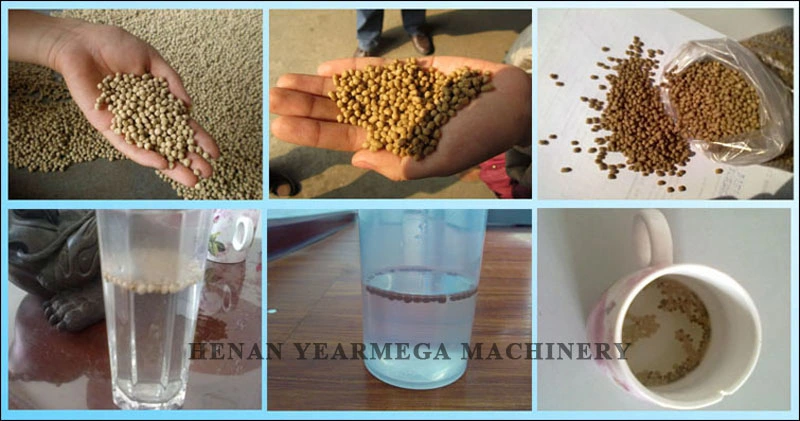 Specification of fish feed pellet machine price for fish farming
| | | | | | |
| --- | --- | --- | --- | --- | --- |
| Model | Capacity | Main power | Feeding power | Screw diameter | Cutting power |
| DSP60 | 0.18-0.20t/h | 60mm | 15kw | 0.75kw | 0.75kw |
| DSP70 | 0.25-0.30t/h | 70mm | 18.5kw | 0.75kw | 0.75kw |
| DSP80 | 0.35-0.40t/h | 80mm | 22kw | 1.1kw | 0.75kw |
| DSP90 | 0.50-0.60t/h | 90mm | 37kw | 1.1kw | 1.1kw |
| DSP120 | 0.70-0.80t/h | 120mm | 55kw | 1.1kw | 1.1kw |
| DSP135 | 1.0-1.5t/h | 135mm | 75kw | 1.5kw | 2.2kw |
| DSP160 | 1.8-2.5t/h | 155mm | 90kw | 2.2kw | 2.2kw |
| DSP200 | 3.0-4.0t/h | 195mm | 132kw | 2.2kw | 3.0kw |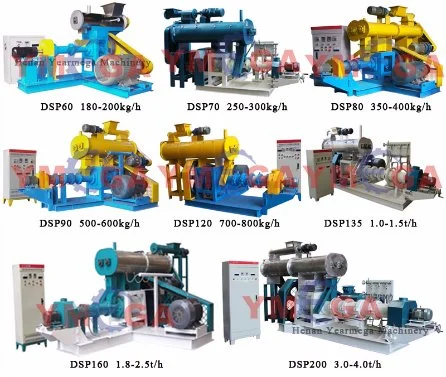 fish feed pellet machine price for fish farming process: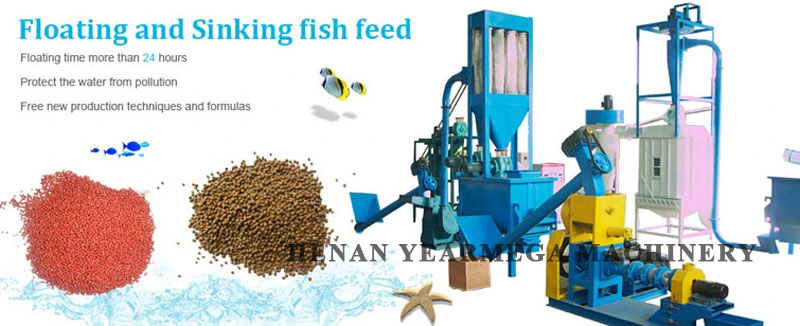 No.

Process

Machine

Description

1

Crushing

Crusher/Hammer mill

To crush the raw materials such as grains into flour/powder

2

Mixing

Mixer

To mix different flour materials together and evenly

3

Extruding and pelleting

Fish Feed Extruder

To make fish feed pellet, the material is processed by high temperature and pressure and pelletized into round pellets, suitable for feeding fish, we could produce both

floating fish feed and sinking fish feed.

4

Drying

Dryer

To

dry the fish feed pellets coming from the extruder

5

Cooling

Contraflow Cooler

To cool the fish feed pellets, the fish feed pellets could be stored for a long time.

6

Flavoring

Rotary flavoring machine

To seasoning the fish feed, spray oil and other liquid additives on the surface of fish feed pellets, make the feed more delicious.

7

Packaging

Automatic Packaging machine

To pack fish feed pellets into bags, easy for store, transportation and for sale in the market.
Packing and shipping
1. Packing is in export wooden case packing or in bulk according to the size of the fish feed pellet machine.
2. we will make the fish feed pellet machine as quickly as possible after the cusomer playing the order, also with high capacity. we will track the shipping for customer whenever they need.
Our Services
1. We will give detailed introduction of the fish feed pellet machine according to the client capacity requirement.
2. Share any information about the fish feed pellet machine that the clients need, like detaield pictures, video,etc
3. Design fish feed pellet machine for client.
4. Help the clients to do suitable floating fish feed formulation.
5. Give detailed instruction manual and video to help the client operate thefish feed pellet machine.
Company information
We specialize in researching, developing, producing and marketing top quality feed related machines-crusher, mixer, feed extruder, dryer, cooler, oil coater and packing machine. We can design turnkey pet food and fish feed production line and animal feed production line for customer.

Q:

How long does the floating fish feed float on the water surface?

A: It can float more than 24 hours. While the floating time can be adjusted when the pellets are extruded.

Q:

Does the fish feed pellet machine can only make feed pellets for fish?

A:

It can make feed pellets for fish, catfish, shrimps, prawns, crabs, cat, dog, etc

Q: What size of pellet can be made by your machine?

A:

based on the diameter of the die moulds. We can customized die moulds with diameter of 0.9-15mm.

Q: Do you supply the floating fish feed production line?

A: We can supply a floating fish feed product line include feed hammer mill, powder mixer, fish feed pellet extruder, feed pellet dryer, fish feed pellet cooler, feed pellet weighing and packing machine. The capacity is from 60-5000kg/h.

Q: Is there a formula of making the floating and sinking fish feed pellet ?

A: We can offer free formula for different feed pellets to our customers.
C
ontact information:
If you have interest in this Good working performance Fish Feed Pellet Machine Price for Fish Farming, kindly please contact:
Mobile: +86 15093305912